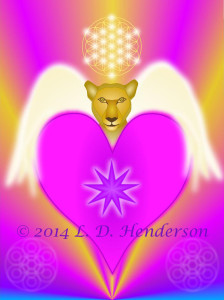 Professionally, I wear many hats. I'm a Reiki master teacher, Sacred Heart Soul Healing founder, healing arts practitioner, ascension artist, writer, editor, speaker, organizer of A Gathering of Angels Meetup and a few other things, but in truth I have only one real job: to LOVE without condition and honor every being with whom I share this journey.
As a sensitive or empath who feels the emotions of others (not quite as fully as Deanna Troi on Star Trek Next Generation but more than enough to be sure), I recognize that the thing that is most needed for the purpose of healing is unconditional LOVE. The energy modalities I use in my work flow with an endless fountain of that vibration and quality, which is why I joyfully embrace daily self-work with Reiki and Sacred Heart Soul Healing and also why I love teaching these techniques to others so that they can imbibe the gracious gift of infinite LOVE.
I was sent to this world to LOVE without end every single life. This doesn't mean that I don't discern that some are on a completely different wavelength from me, but my job is to see the Light within each soul no matter how much shadow appears on the surface. That may not be easy (especially in this election year), but it is the most important thing I can do in every moment. LOVE!!
Love and judgment cannot exist in the same space at the same time; so I realize that when I fall into judgment of anyone (and, yes, that means people in the public eye and the political arena), I have taken myself out of the frequency of LOVE, out of the vibration where I am meant to live.
When we judge another person, we both align ourselves energetically with the thing we are judging and more firmly entrench that person in the energy that prompted such a judgment. Since my job is to LOVE everyone, judgment is off my to-do list from now until forever. I can and do discern what is right for me, and I most assuredly use that discernment to live a better life and to envision and birth a more radiant reality. But I want EVERYONE to rise to a higher state of consciousness; so I have to avoid labeling anyone in a way that builds on the shadow reality a person is already choosing.
When someone is spouting hate, I recognize that he or she likely lives in a state that is far outside the realm of grace. That person does not know LOVE. In most cases, people were taught to hate and molded by others and by circumstance to become someone who loathes rather than loves.
An empath must avoid looking in the direction of such a person for very long, because hate and fear tend to breed more of the same. However, holding love for those who have been caught in the vibration of hatred is vital if we expect those individuals ever to be able to move beyond that hate frequency. I find it necessary to remove myself quickly from such intense, fear-based energies while setting an intention of shifting ever more completely into LOVE—even for those who have no conception of what that beautiful, enlightened emotion is.
I have seen unconditional love in the public eye only a few times in my life. Once on an Oprah show, a woman came on to discuss how she had forgiven the man who murdered her daughter. Her ability to forgive and even extend love to this man was truly LOVE beyond the level of most human conception. Yet, as an intuitive, I felt and accepted the truth of her emotion.
I knew that this was possible, because I had been able to forgive deeply the murderers of my first love, my best friend and another dear friend. Of course, for me this took decades to achieve while for the mother who appeared on Oprah it had been only a few years. Seeing and hearing her story helped me to find love in my heart enough to extend to those who had taken the lives of my two young and cherished teenaged friends and my 21-year-old first love. In doing so, I freed myself from the pain of that time in my life when I lost so many who were close to me, and I opened the door for more and more LOVE to flow into my life. Letting go of those deep wounds that lived in my heart for so long made room for the amount of LOVE required to change the world—at least my little corner of it.
So, friends, that's my real job and the most important one of this or any life. Living LOVE is everything. It feeds the soul, heals the psyche and blesses every aspect of life with its rich, glorious pure LIGHT, and for this I am ever grateful.