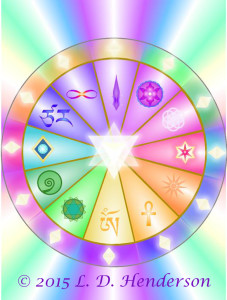 What Color of the Rainbow Was Your Spirit Born to Shine?
There are many rays of Divine Light in the Universal spectrum. Each of us is birthed into existence to express the beauty of our uniqueness and shine the ray of light that we call home. When we come into this reality, we tend to forget our origins and often spend much of our lives in search of what brings fulfillment to our purpose.
This class is designed to help you begin to remember who you are and why you came. This workshop includes:
Information about the Divine Rays of Light
An extensive quiz to assist in determining your soul's origins
Meditations to:

help you connect with your higher self
open to the path of light you came to walk
receive wisdom to help you along the way
This class is a beginning. It will help you find the light of your origin, the energy that calls to you, but only you can make the decision how to implement that path and to what degree you will walk it. If you wish to get more anchored in your spirit's truth and consciously live it, you are invited to continue the journey by taking the Purpose-Powered Program.
This brand new class is held on a Saturday or Sunday afternoon, 1-6 PM, at my office in Cary (unless a larger location is needed). Introductory cost is $77 to $99 (sliding scale).
Background
I have worked with Archangel Michael for many years (since 1999), and one of the things this beautiful being most emphasizes is the importance of living one's purpose. Nothing brings greater fulfillment. I personally can attest to this, because I spent decades in search of my own purpose and have known such joy in walking that path since I found it in the 1990s.
Part of my journey over the better part of two decades has been to help others find their purpose and live their light. It is one of my greatest joys to see someone discover the truth that lies within and be able to move forward on the path that will bring fulfillment. After going through my husband's Purpose-Powered Program quite a few years ago, I have taken and then sat in on his classes on several occasions, assisting him in this work of helping others to get in touch with their uniqueness in order to live an authentic life true to their highest purpose. He and I are currently updating the program for even stronger connection to the life and soul purpose unique to each individual.