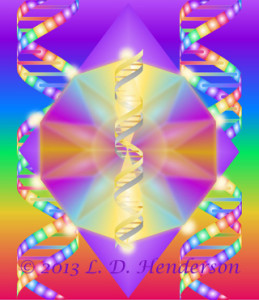 • Bring forth your self-love, self-trust and empowerment.
• Discover your self-truth and self-mastery.
• Set in motion the long-awaited healing capacities of your DNA on all levels—Physical, Emotional, Mental and Spiritual!
About DNA Activation
DNA Activation allows us to access the subtle energies of life that exist within us in order to achieve self-mastery and quicken the journey into higher consciousness. Human DNA currently consists of two strands, known as a double helix. DNA Activation involves bringing in 10 more latent or "virtual" strands (five pairs) of DNA and stacking them on top of the original double helix.
Activating these additional strands of Communication, Perfection, E-motion, Creativity and Immortality enables our DNA Intelligence to connect with the Divine and manifest our truest desires. The process is performed energetically and thus involves no needles or drawing of blood!
Once activated, our DNA responds to our commands opening a doorway to endless possibilities for growth and achievement. Thousands of people have been activated and have found the experience life-altering in the most positive sense. Just a few of the effects that have been reported include increased health and vitality, enhanced connection to and communication with the Divine, greater understanding and acceptance of self and others, ability to co-create and manifest.
This process cannot be done without your conscious permission and participation! You are the director of your life and the only one responsible for your healing and mastery. As a practitioner I act as facilitator in a cooperative effort with your conscious mind and Higher Self.
The DNA Activation Process
DNA Activation is a two-step process:
The First Activation, which performs this process on two archetypal chromosomes, Youth and Vitality, takes place in either a private or group setting. A private session generally takes approximately 90 minutes or more and costs $111. Private sessions are available either in person (Cary or Raleigh) or by phone.
The Second Activation, scheduled after the first, is a private session experienced either in person or by phone. The session is more personally directed toward the activated individual. Cost is $144 for the Second Activation.
The First Activation session includes:
The DNA meditation
The Soul Bubble experience
An overview of the four DNA Healing Techniques and their benefits
The Youth and Vitality DNA Activation
Techniques to assist the body, mind and spirit with the shifts that occur after activation
The Second Activation session includes:
Discussion of previous activation results
Repeat the Pulsar Star or Soul Bubble experiences
Expansion and Rejuvenation DNA Activation
Optional Message from Spirit (if one is offered)
Further discussion of post-activation techniques
For more information about DNA Activation and Healing click here, and then follow the MORE buttons at the bottom of each page.
To read some of our testimonials about DNA Activation, click here.
How to Schedule Your First Activation:
For more information or to schedule an appointment, contact Diana at (919) 264-0159 or e-mail by clicking here.
Cost for First DNA Activation: $111 – Use paypal to pay now by clicking on this button:
Cost for Second DNA Activation: $144 – Use paypal to pay now by clicking on this button:
Background
"My husband and I had no idea what to expect when a friend invited us to a First DNA Activation workshop in early January 1999. We knew only that we trusted our friend, who said we would benefit from the experience. That turned out to be quite the understatement!
We quickly realized that we had stumbled upon what for us would prove to be a most miraculous, life-changing modality! Everything I had been working toward over the course of three years prior suddenly started to shift into place. I couldn't fathom even then what the Universe had in store for my life from that moment forward. Needless to say, we got the second DNA Activation as quickly as we could (within the week), and within a month we had taken the first level training in how to perform this amazing techique on others.
We completed the entire DNA Activation and Healing program that spring and have found this path to be life-altering in the best possible sense. We are both so grateful for the day we found DNA Activation!! I will always remember fondly our late friend Joyce Ligon who invited us to that workshop at her home. ~ Diana
My husband and I *became certified in the DNA Activation Process in 1999 after being trained in DNA Healing Techniques through Oughten House Foundation. I've been a Reiki master and teacher since 1998 and was also certified in Therapeutic Breathwork in 1999 and trained in several modalities including Quantum Touch, Esoteric Healing, Advanced Energy, Angel Light Healing, Muscle Testing (kineseology) and Energy Dowsing.
Writing Coach, Astrologer and Reiki Master Drew Becker has also studied Advanced Energy, Spirituality and numerous other metaphysical topics. Drew currently works primarily in publishing, branding, marketing, training and coaching.
Both of us are former high school English teachers who now use our teaching skills in Reiki and countless other classes as well as DNA Activation workshops.
*We chose not to renew the extensive annual re-certification requirements with Oughten House but have continued to use the techniques and have performed thousands of DNA Activations during the years since the initial training and certification.
Diana is licensed by the State of North Carolina in the Art of Healing.
Be sure to read my post, "DNA Activation and Reiki: A Powerful Combination."