I've probably watched the movie Defending Your Life with Albert Brooks and Meryl Streep on at least 7-8 occasions through the years and loved it every time. If you don't know the story, Albert Brooks' character, Daniel, dies suddenly and gets shipped to Judgment City, a place between Heaven and Earth where people's lives are assessed to see if that get to "move on" to a more uplifted reality or have to return to kindergarten here on Earth. It seems that Meryl's character, Julia, is a shoe-in for ascending to a higher plane because she lived to the fullest, risking even her life to help others and always going the extra mile. Daniel, an affable if ineffectual fellow, played it safe and did little to improve even his own situation. As a result, his Attorney Mr. Diamond (played by Rip Torn) can offer little in his defense.
When I watched the film again recently, I couldn't help thinking about how I've approached risk in my life. I certainly have experienced moments when I shied away from the spotlight and from situations where I felt insecure, but I've had my fair share of going out on a limb as well—thanks to some powerful examples in my life.
My mother instilled a great need to be "safe" as so many moms do, but she and my father actually lived a much more risk-oriented reality. She went to college at the age of 36 while juggling a full-time job and a houseful of children and ended up getting her bachelor's, two master's degrees and a doctorate in education. She started her own school for our church and built that into a K-7 academy. Then, she tackled being first a teacher and later a principal in the public school system, where she instituted programs for reading and art that pushed the envelope and made her primary school the one sought after by every teacher and parent in the county. She ended up being named Principal of the State of North Carolina in 1989 and later receiving the John F. Kennedy Center Arts Education Award.
My father likewise always ventured into unknown territory both in his law career and as a community leader in various organizations. He even ran for State Congress (and lost) in a party that was certainly not the favorite in our state at the time. He made a name for himself as a defense attorney reminiscent of a real-life Matlock.
So there were our parents telling us kids to be safe while showing us that we needed to embrace life with passion and bravery. In some ways, I suppose I took both paths to heart. As a bit of an introvert, I spent a fair amount of time being sheepish in the early years but forced myself to get past my fear of public speaking by joining the National Forensic League in the 11th grade. I started pushing my limits with my writing in college but still didn't completely overcome the desire to remain out of the limelight.
Finally, in my 40s after hiding my true self to fit in for a long, long time, I came to the point where I knew I had to take ownership of my life and forced myself to share those "out there" topics that were dear to my heart with audiences of over 100 people. It took a while to feel secure enough in my own skin to move out of my comfort zone and let people know who I was. Still, I didn't manage to screw up enough courage to publish my novel until I turned 60. My writing was always something I held close to my heart for the most part, but the story of Grandfather Poplar finally begged to be told.
I guess I always had the risk-taking gene, but I often had to work up the nerve to rise above my fears. I remember on our honeymoon in Jamaica many years ago I watched fellow tourists parasailing every afternoon as I sat safely on shore. I longed to feel that enticing sensation of flight, but I had a fair degree of acrophobia and didn't think I could handle it. Every day I would turn to my new husband and say, "I wish I could do that. Maybe tomorrow." On the last day of our week-long stay, I finally said, "Let's go parasailing!"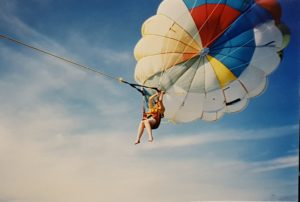 I can't describe the feeling of soaring high above the waves. Words like "exciting" and "exhilarating" hardly capture the essence of that thrilling escapade. A rush of air lifted me higher and higher. Then, the boat stopped to let me gently waft down and dip into the ocean before returning to the sky and the currents that carried me into blissful abandon. I could have stayed up there all day dancing with the wind, but the adventure ended all too soon and I returned to the starting ramp.
I took the risk that time in my life despite virtually equal amounts of dread and desire, and my reward was an experience beyond description that lives in my memory 26+ years later as vividly as any of the moments of my life. At the time I recall telling my beloved, "Oh, how I wish I had done that on our first afternoon here. Then, I could have gone up again every day!"
Each time I've taken a chance and stepped out of my routine, I gained something. My first competition in the NFL in high school resulted in me nervously stammering and stuttering my way through a recitation from a novel. Red blotches covered my chest, climbed up my neck and threatened to swallow my face in a blushing sea of embarrassment. What was my reward? Getting through the experience and seeing that the worst was behind me! As hard as it was, I learned that I could face the judges and get through the meet. I did much better at the next event and felt stronger every time I put myself out there. If we let it, courage has a way of building on itself, I believe.
I invite you to join me in asking yourself what risks you're willing to take to reap the benefits of a life well and deeply lived. If we had to "defend our lives" right now based on how much we embraced our truths and engaged in the adventure of stretching ourselves and helping others along the way, how many moments could we recall to show that we shone a light into this world and truly, thoroughly lived?
I'm not suggesting we throw caution to the wind and decide to do something foolhardy or dangerous. But what if we missed the opportunity to live our purpose because we were too timid? What if we were hiding inside exactly what someone out there needed in order to heal or blossom? What if we could change the world for the better—even if only for a single soul—by shining our unique light and revealing those wonders that we have kept hidden in our psyches?
As William Faulkner said, "You cannot swim for new horizons until you have courage to lose sight of the shore." I believe the universe is calling us now to step into the unique purpose that prompted us to come into this realm of Earth, to venture into unknown waters in order to gain and then share the wisdom of Spirit.
My experiences teach me that risk often leads to a gift. Sometimes the reward is just proving to yourself that you can do whatever it is or learning a lesson that will guide you in life. Sometimes it's getting to soar above the ocean and feel freer than you ever imagined you could. How high are we willing to fly in order to make a difference?
"Be brave," I said to myself as they harnessed me and hooked me to that parachute tethered to a speed boat. As the boat accelerated and my body left the safety of the platform, I was still whispering, "Be fearless, Diana. You can do it."
And so can you, friends. So can we all.